About us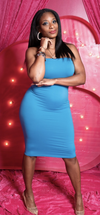 GODDESS ATHLEISURE & ACTIVEWEAR
We are a woman owned company based in Atlanta,GA -designed and produced in the USA. GODDESS Athleisure + Activewear is small batch, uniquely made with every stitch,fabric and zipper hand picked by our owner Nicole Mitchell.
Nicole is a native of Detroit, MI.  She has always had a love of fashion and decided to curate a line with every woman in mind. Feeling powerful, beautiful ,confident and motivated to take on each day (or just that one workout) are all traits Nicole wants our everyday GODDESS to feel when wearing their pieces .
We truly see GODDESS Athleisure + Activewear as an ever-evolving love story of the whole self as we plan to continuously expand on our collection pieces each season. Please come on the journey with us in this healthy ritual in whole being wellness- WHOLE BODY.WHOLE MIND.WHOLE SOUL.